As the business environment continues to change rapidly, companies are finding new ways to stay ahead of the fierce competition. Therefore, there is no doubt that the use of cloud computing has increased in the last few years. For instance, experts estimated that 83% of enterprises' workloads are already located in the cloud by the end of 2020 and suggested that those who haven't made the switch are already falling behind. On a mission to become cloud-first company, Atlassian's cloud solutions unlock the ability to provide the best experience for organizations of all sizes, be it industry giants or emerging startups.
So, what exactly is driving this mass move to the cloud? Here are the top 5 reasons organizations are migrating from on-premise to Atlassian cloud:
1. Cost Effective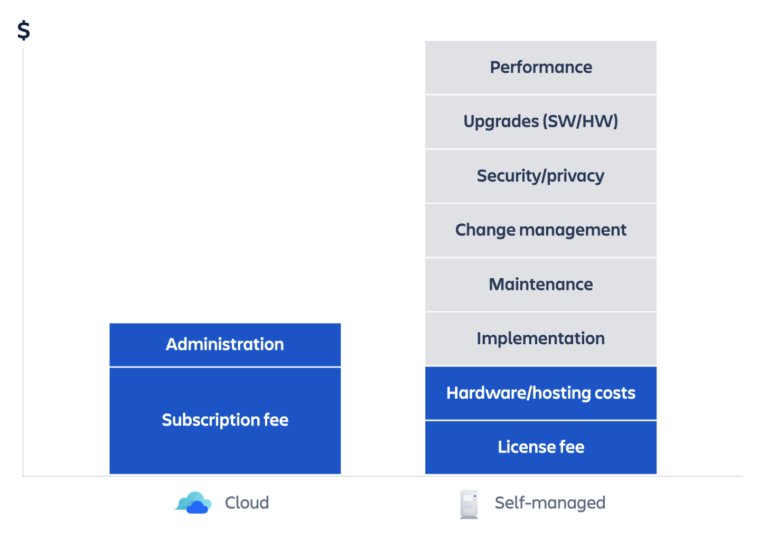 The ever-changing technology such as new hardware, applications and networking systems associated with on premise maintenance continuously gets in the way of existing business operational methods. Aside from time consuming, keeping up with the latest trend to remain competitive is also costly for companies, not to mention the need to employ on-site IT experts to support these infrastructure. In attempt to alleviate this issue, many organizations have decided to migrate to the cloud as it provides an easy way to store data without having to deal with the complexity of on-premise infrastructure. With Atlassian cloud, we host, maintain and upgrade the products for you so there's no need to worry about falling behind. This also reduces hidden costs associated with self-managed servers which resulted in less total cost of ownership, hence more cost effective and profitable. 
2. Scale Faster with Confidence
Unlike on-premise infrastructure, Atlassian cloud has the ability to grow at the pace the organization is growing. For instance, it enables organizations to easily scale up or down immediately depending on the needs of their customers and teams. This faster, smarter and more affordable scaling means end users can have more confidence in growing their business without having to worry about some major league tech hiccups along the way. Additionally, rigorous security testing, disaster recovery plans and encryption in transit and at rest done by Atlassian keep organizations secure as they scale.
3. Increased Productivity
Moving to the cloud has also become many organizations' secret in improving productivity. In fact, 80 percent of IT professionals have testified for its effectiveness, according to a research by Office 365 (2020). By trusting Atlassian to handle major incidents and keep up with the latest security in the cloud, IT teams have shorter to-do lists which gives them the opportunity to focus more on doing the highest-value tasks for your business such as building new apps and features. Freeing up time also means freeing up mental space which has been shown to have a positive impact on performance and productivity. Aside from IT team, Atlassian cloud offers productivity benefits for non-technical teams too from marketing, HR to sales and the reason being, workflow and task automation lets people work on more intricate jobs.
4. Secure
Familiar with the myth "on-prem is more secure than cloud" ? Yes, security has become most organisations' primary concern when considering a move to the cloud -particularly data loss and violation of privacy. However all of their fears can be easily calmed as most common worries about cloud are either outdated or plain wrong. In fact, Gartner (2019) reported fewer security breaches happened in the public cloud as opposed to on-premises infrastructure environments. According to a TechValidate survey of 300 Atlassian customers who migrated to the cloud, 92% testify that cloud security is equal to if not better than on-prem security (Atlassian, 2021). Thanks to Atlassian's zero trust approach which imposes multiple security checks before data can be accessed by users instead of the typical single security check that is implied on an on-prem system. As a reputable cloud vendor, Atlassian is committed to ensuring the highest standard of safety and security at the heart of its products, infrastructure and processes, so organisations can rest assured that their data is safeguarded. 
5. Compliant
Moving on, being in compliance with industry-specific regulations is another huge concern for many organisations as failure to do so can result in down time, loss of reputation, fines or even imprisonment. However, the process of maintaining compliance is often complicated, lengthy and frustrating. Despite the infamous belief about cloud's inability to meet compliance requirements, using the right cloud service provider can actually prove otherwise. For instance, Atlassian cloud products regularly undergo independent verification for their security, privacy, and compliance controls, achieving certifications, attestations of compliance, or audit reports against both global standards as well as industry specific/regional regulations. That way, organizations need not have to worry about staying up to date with industry news and aligned industry best practices manually, hence making it easier to meet regulatory standards. 
Despite all the advantages that Atlassian cloud has to offer, many organizations are still hesitant about moving to the cloud due to concerns such as not having the expertise to handle cloud migration processes. The good news is, we are here to help you in every step of the way. Whether you are looking for a gradual migration or all at once, we got you covered! As a team of experienced and certified Atlassian professionals, Progrez will ensure that your move is completed smoothly.

References
Atlassian, "Cloud vs. on-premise", 2021, https://www.atlassian.com/cloud/cloud-vs-on-premise
Gartner, "The top 10 cloud myths", 2019, https://www.gartner.com/smarterwithgartner/the-top-10-cloud-myths
Office 365, "Trend report: why businesses are moving to the cloud", 2020, http://m-hance.com/app/uploads/2017/05/mhance-office-365-cloud-trend-report.pdf